ACCOUNT SERVICES

Debit/ATM Cards

METRO Visa Debit/ATM Card
Access your funds securely and conveniently.
With a swipe of your VISA Debit/ATM card, you have access to all the funds in your checking account at any VISA merchant without the hassle of cash. Use it just like a credit card at more than 18 million merchants, including gas stations, supermarkets, fast-food restaurants, and more.
You can also use your card to get cash, transfer funds and make deposits—it's accepted at thousands of ATMs locally, in the United States, and worldwide. Thanks to our CO-OP Network membership, you'll enjoy fee-free access!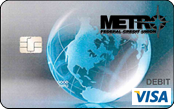 Withdraw up to $500 cash per day.


 Premier/Student Checking Account holders receive (6) free Credit Union ATM transactions per month (4 Withdrawals, 2 inquiries), additional transactions/inquiries at $1.00 each.


 Regular Checking Account – there is a $1.00 fee for each transaction/inquiry.
METRO Federal Credit Union members can use METRO's ATM for unlimited FREE ATM transactions and inquiries.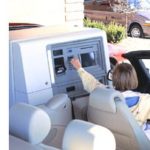 METRO's ATM location:
2440 E Rand Road
Arlington Heights IL 60056
Use any ATM with one of these logos to make withdrawals/purchases or balance inquiries (Worldwide).
SEARCH FOR SURCHARGE-FREE ATM LOCATIONS, CLICK ON LINK BELOW.

Allpoint ATM Locator

co-op ATM Locator

Star ATM Locator 

Alliance ATM Locator

Visa ATM Locator