Online Services

Mobile Banking

MOBILE APPLICATION
Convenient access on-the-go using your mobile phone! If you are a current Online Banking member, there are some simple steps you can do to take advantage of METRO's three Mobile Banking options; Downloadable Mobile App, Mobile Browser or Text Banking. View your balances and history, transfer between your accounts, pay bills, deposit checks and much more.

MOBILE APP ACCESS
Stay connected on the go with METRO's Mobile Application.  It's free for any member with a checking or money market account.

Download and use the METRO App found on either the App Store or Google Play.
Open the app and enter METRO's App code: mobilemetro
Then complete your log in using your Virtual Branch Online Banking Login ID and Security Code.
TEXT BANKING
Receive real-time balances by texting 'BAL' and transaction history by texting 'HIST' to the designated number – 99588. A text response will be sent back to you with the requested information. No log in information required! To activate this feature log in to your Virtual Branch Online Banking, click on the Self Service tab, scroll down to the Mobile Banking Profile, click Manage Device(s) and following the instructions to activate Text Banking.
INSTRUCTIONS:
METRO'S Mobile Application, MOBILITI (Touch Banking), is FREE for any member with a Checking or Money Market account.
How to sign up for MOBILITI from your Computer or Smart Phone:

1. Log in to Virtual Branch Online Banking and click the Self Service Tab

2. Click on Mobiliti under the Additional Services box

3. Click OK and check the box agreeing to the Terms and conditions

4. Click Continue (it will only appear if the Term and Conditions box is checked)

5. Scroll down and enter your cell phone number in the box and click send. (A text message containing the download link for the Touch Banking App should be sent to your phone within a few minutes)

6. Open the link provided by the text message  (The link should take you to the Touch Banking mobile app) and download the App

7. Open the App after it has completed downloading and enter App code:  mobilemetro

8. Enter your Virtual Branch Logon ID in the Username box and click continue

9. Enter your Virtual Branch Security Code in the Password box and click Log In

Your log in and registration is now complete!

*If you would like to be able to make mobile check deposits through the Mobile App, please fill out the Remote Check Deposit Application.
MOBILE CHECK DEPOSIT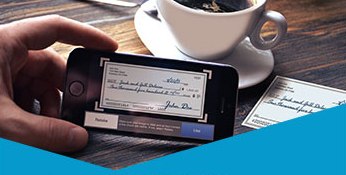 Mobile Check Deposit
With METRO's new App, you now have the convenience of depositing checks using your smartphone!
No ATM, no extra trip. Mobile check deposit is free and available for members with a checking or money market account.
It's Easy!  Just fill out the Remote Deposit Application, submit it to a friendly METRO Service Representative, and you'll be up and running in no time!
Mobile Deposit Guidelines

Deposit Limits:

There is a $3,000 maximum limit per individual check and a $5,000 total daily deposit limit.

Endorsement:

Endorse each check and add "MOBILE DEPOSIT TO METRO" below your signature.

Availability:

Deposits made before 3:30PM (Monday thru Friday) will post to your account after 6:00PM the same day. Deposits made after 3:30PM will post to your account the following business day after 6:00PM.

Please contact a Member Service Representative at 847.670.0456 if you need additional assistance.